Posted by GTR
on 30 September 2011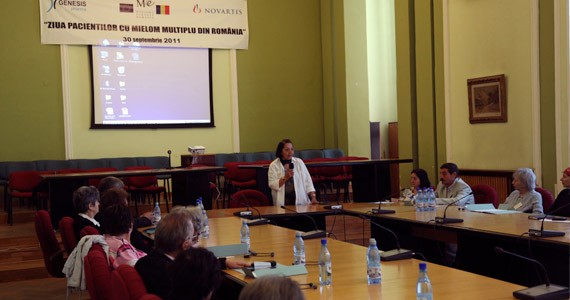 We began in force this morning at nine o'clock when we opened at the Timis Prefecture the conference "Day of Romania patients with multiple myeloma." We have joined in this effort the Association "Myeloma Euronet Romania", represented by Mrs. Viorica Cursaru, which advocates for the rights of patients suffering from this degenerative disease. At the event took part prestigious doctors like Dr. Horia Bumble, Prof. Erik Aerts, Prof. Werner Linketsch.
If today was a day dedicated to patients, tomorrow's meeting will focus on preparing nurses who take care of multiple myeloma patients.
The sponsors of the event are GTR, Timis Prefecture and Novartis from which attended to event the company representative for Europe, Mrs. Susanna Leto.