Whe bought the hous from Calacea somewhere in the middle of 2003. When I bought it was in a deplorable state. What convinced us whas the perspective for the future, the spring watter at the end of the garden, the fountain near the entrance, the land that inhabitants considered to be the best and last but not least  the entire land surface. There are over 4000 square meters.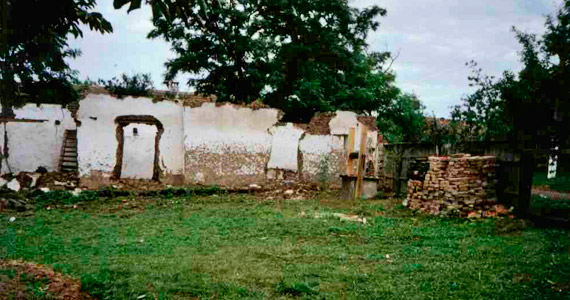 The first thing we had to do immediately after we became the owners, was to demolish of the old that had the back already fallen. Rain had seriously disolved the walls of "Vaiuga" and the roof was long gone. We started working and within weeks had the land was cleared.
Then came the turn of the house itself. A construction also of "Vaiuga" with a small hallway, and three small rooms, a small kitchenette … I still remember when I first entered inside there were  some agricultural tools stored, and the walls  carried traces of an ancient wall painting upon which were rolled some floral motives. The small windows barely let light inside, and inside the floor mice had made real road networks.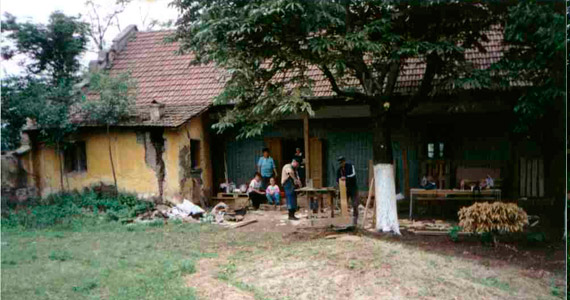 It was clear to everyone that very much work will have to be done here. Although alot of work had to be done, the problem was not the manpower, but the money.
We brought with us in this project our partner from Sweden (Unga Liv), Ms. Mona Lundt and Hans Goran Bolin who have supported us financially and with humanitarian aid. The first thing I did was to strengthen the walls,  that as seen were not in the best condition.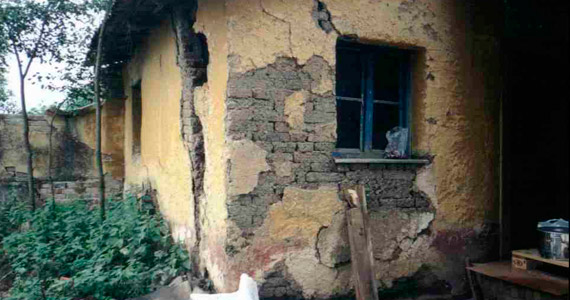 Then we fixed the roof,  the attic and in the last phase the interior.